The Latest School Committee Highlights 5-15-2023 Meeting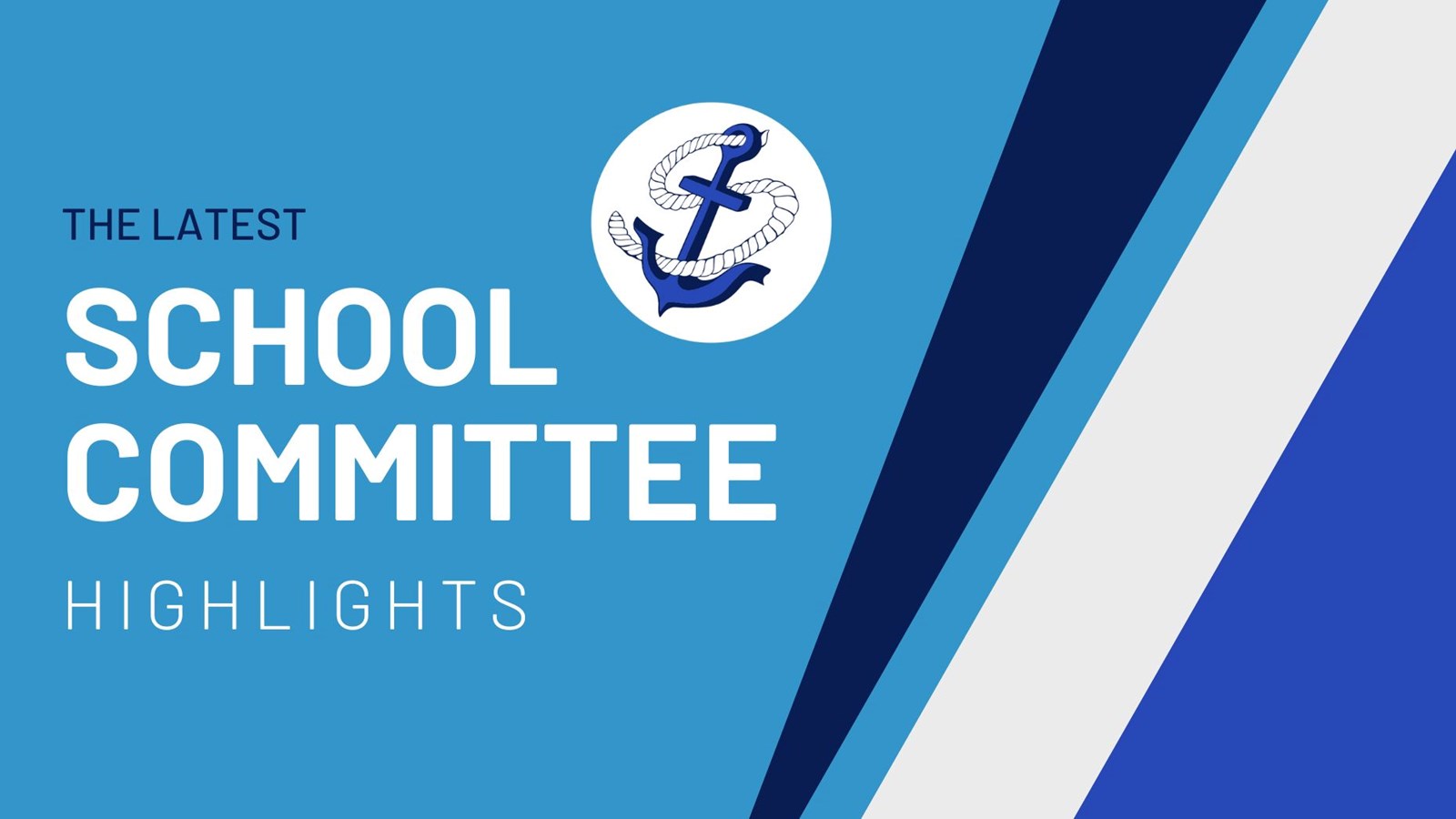 On May 15, 2023, the School Committee met for its regular meeting and voted to revise policy BDA School Committee Organizational Meeting and voted not to participate in School Choice for the 2023-2024 school year.
SHS seniors and School Committee student representatives, Emma Riedel and Victor Bowker, shared their final update as the Scituate School Committee Student Representatives. Among many other updates, they celebrated the exciting return of Spring for the Arts. Spring for the Arts, which took place Thursday, May 11th, included arts displays from all schools, and performances from choruses and bands, performances from SPS thespians at both the high school and middle school levels. To mark the end of their high school careers, seniors will celebrate at The River Club for the annual senior dinner dance and attend picnics, yearbook signings, elementary school trips, and lots of graduation practice
Superintendent Evaluation
Superintendent Burkhead shared an update on his FY23 goal progress through his State of the District Presentation on 5-1-2023. At the 5-15-23 meeting, the School Committee provided their annual evaluation of Superintendent Burkhead and voted to rate his FY23 performance as overall proficient.
Some key academic takeaways from their feedback were:
Superintendent Burkhead has made community engagement and communication a top priority.
Superintendent Burkhead has made significant strides to provide data informed decision making details to stakeholders.
Superintendent Burkhead has made improvements to the evaluation practices at SPS though this is a growth area within the district.
Relative to Student learning goals, Superintendent Burkhead has started the district on creating a new 3-5 year strategic plan with input from various stakeholders.
Continuing the path of data collection and making adjustments relative to student outcomes should continue to be a focus as we have seen data to show that some students are not meeting benchmarks.
Superintendent. Burkhead has placed the district in a healthy fiscal position to continue to deliver an excellent education to the students of SPS.
There is still work to be done in management and operations focusing on our human resources policies in order to identify and implement methods and efforts to recruit qualified and diverse candidates and work related to programs to promote retention and employee satisfaction.
Superintendent Burkhead has consistently exhibited a collaborative approach to learning, family and community engagement and addressing concerns.
Superintendent Burkhead welcomes input from the community for the Strategic Plan, MSBA project, hiring committees, etc. and has successfully negotiated 6 union contracts.
Superintendent Burkhead is working diligently to provide an environment for staff and students that is culturally proficient as shown by his initiation of the equity audit. He is not afraid to have constructive conversations and dialogue.
For more information about the essentials of the educator evaluation process, please see the quick reference guide below.
Business, Family & Consumer Sciences, Health & Physical Education Celebration of Student Learning
Department Chair Greg Raneri shared how active engagement and collective investment are essential attributes of successful learning experiences within SPS Health & Wellness and Business Education programming.
Throughout their SPS experiences in physical education(P.E.) and health, students acquire lifelong knowledge and skills in unique and personalized ways. In the elementary grades, students are pumped for P.E. as they experience focused skill growth through activities like Jump Rope Ninja and are able to test their speed and endurance at inter-school events like the Spring Track Meet. At the middle school level, applied nutrition labs and lifelong activities like disc golf as well as international games such as tchoukball have students thinking about wellness beyond the school setting. Students at SHS build self-awareness and self-management strategies in health classes and engage in healthy risk-taking by entering into their "stretch" zone in physical education by participating in adventure-education-based activities.
Furthermore, SHS strives to reach the highest levels of student investment through an application of learning as well as by incorporating outside organizations into the learning process. Examples include partnering with the Scituate FACTS Coalition on substance misuse prevention efforts and through participation in outside competitions. Students bringing culinary food labs to the home front, participating at DECA, and taking advantage of internships allow for meaningful and memorable educational experiences.
For more information, please see the link below for the video full presentation or the attachment for the full slidedeck.
Safety Committee Update
This year the Scituate Public Schools created its first "Safety Committee" that worked in collaboration with the Scituate Police Department and the Scituate Fire Department to:
Develop
Medical Emergency Response Plans
Quick Reference Guide for Emergency Response Protocols
Safety Drill Training and Practice Plan
Bomb Threat Protocol
Educate staff, students, and families by
School Safety Response Training from SPD for all SPS staff
Training staff and students on information-driven emergency responses
Training administrators and all administrative assistants on bomb threat protocols
Communicating with families after drills and through regular updates
Execute action including
Practicing Fire Evacuation Drills
Practicing lockdown drill with staff and students
Evaluating 3 School Safety Communication Apps
For more information, please see the link below for the video full presentation or the attachment for the full slidedeck.
Resource Links
DESE Quick Reference Guide to MA Educator Evaluation
To view the full School Committee meeting please visit the Scituate Community Television (SCTV) YouTube Channel.
SPS School Committee: Members, policies and procedures and future meeting dates with agendas as they become available.