Celebrate Learning
ELA Celebration of Student Learning
Caption: Some of our youngest writers share their writing with classmates and receive peer compliments on their work.
ELA Celebration of Student Learning
As a follow up to each school presenting their celebrations of student learning, on January 30th, 2023, Megan Gregory PK - 5 Humanities Curriculum Coordinator and Caitlin Bergeron 6-12 Interim English Language Arts Department Chair presented the first elementary through high school celebration of student learning focused on a specific content area.
Aligning our literacy expectations and practices across grade levels allows students to build skills in reading and writing as they grow through the Scituate Public Schools.
Another opportunity to see our coordinated efforts to promote student learning is during our family information night. Please join the elementary STEM and humanities coordinators in the Cushing library on Wednesday, February 8 from 5-6pm for a presentation and discussion about math and literacy curricula grades K-5.
Some of the highlights to be celebrated in English Language Arts are:
Jenkins' first grade block party to celebrate the end of their Neighborhoods unit
Students reviewing each other's writing for helpful feedback across all grade levels
Sharing elementary student benchmark data with families in Aspen.
Elementary ELA Achievement
Elementary students across the district are making gains in their literacy achievement this year with 76% of our K-4 students scoring at or above benchmark on our district decoding benchmark and 71% of our 3-5 students scoring at or above benchmark on our district comprehension benchmark at the Middle of Year (MOY). The highest gains are in first grade, our first cohort to receive Fundations instruction beginning in Kindergarten. Based on the growth and achievement we saw last year, we expect to see continued growth through the End of Year (EOY) benchmark.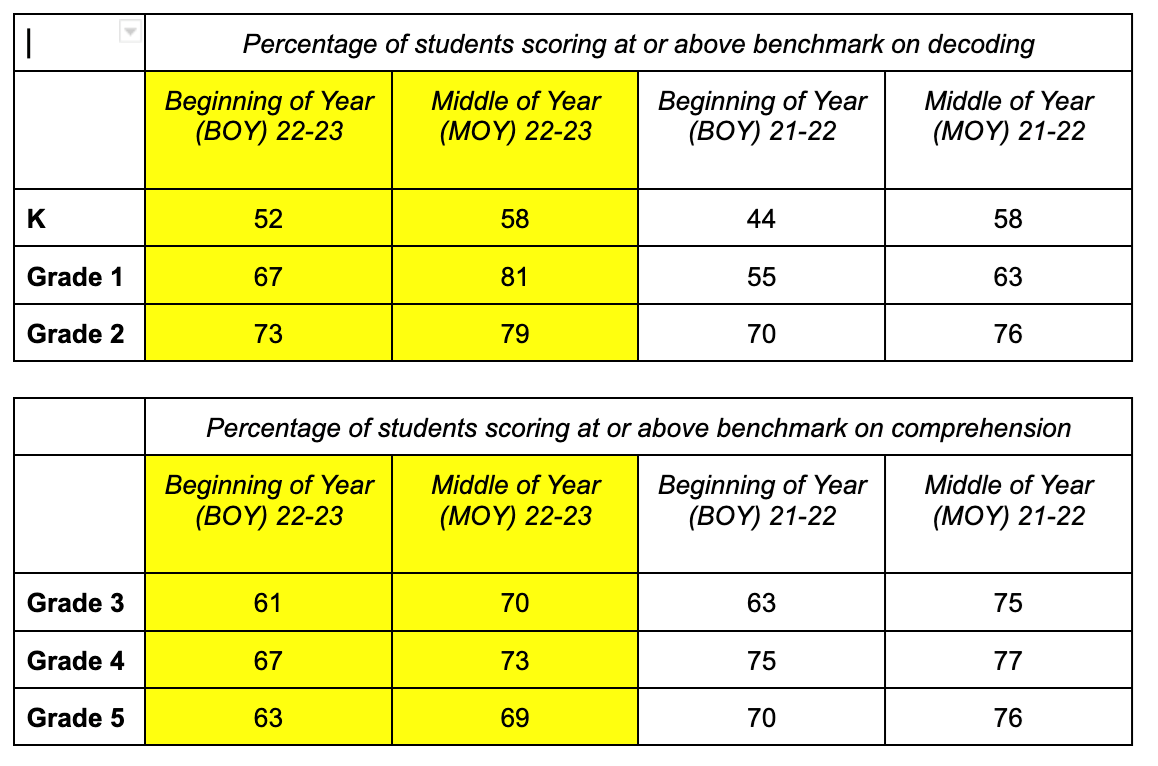 Other ELA-specific events coming up include:
Literary Discussions Transformed into Art
In alignment with their reading of Lois Lowry's The Giver, the Grade 8 team is preparing for the creation phase of a community mural art project that was made possible through an Enrichment Grant from the Gates PTO.
AP Data to Inform Instruction
Students enrolled in the AP Literature and Composition and AP Language and Composition courses will sit for a mock AP exam on Wednesday, February 15th. The data and score reports from these exams will inform class instruction for the second half of the year leading up to the official AP exams in May.
The PK-12 English Language Arts team looks forward to continued collaboration and alignment to ensure all students receive quality instruction to develop their reading, writing, speaking and listening skills.