Announcements
SHS Sailor News - Midyear Edition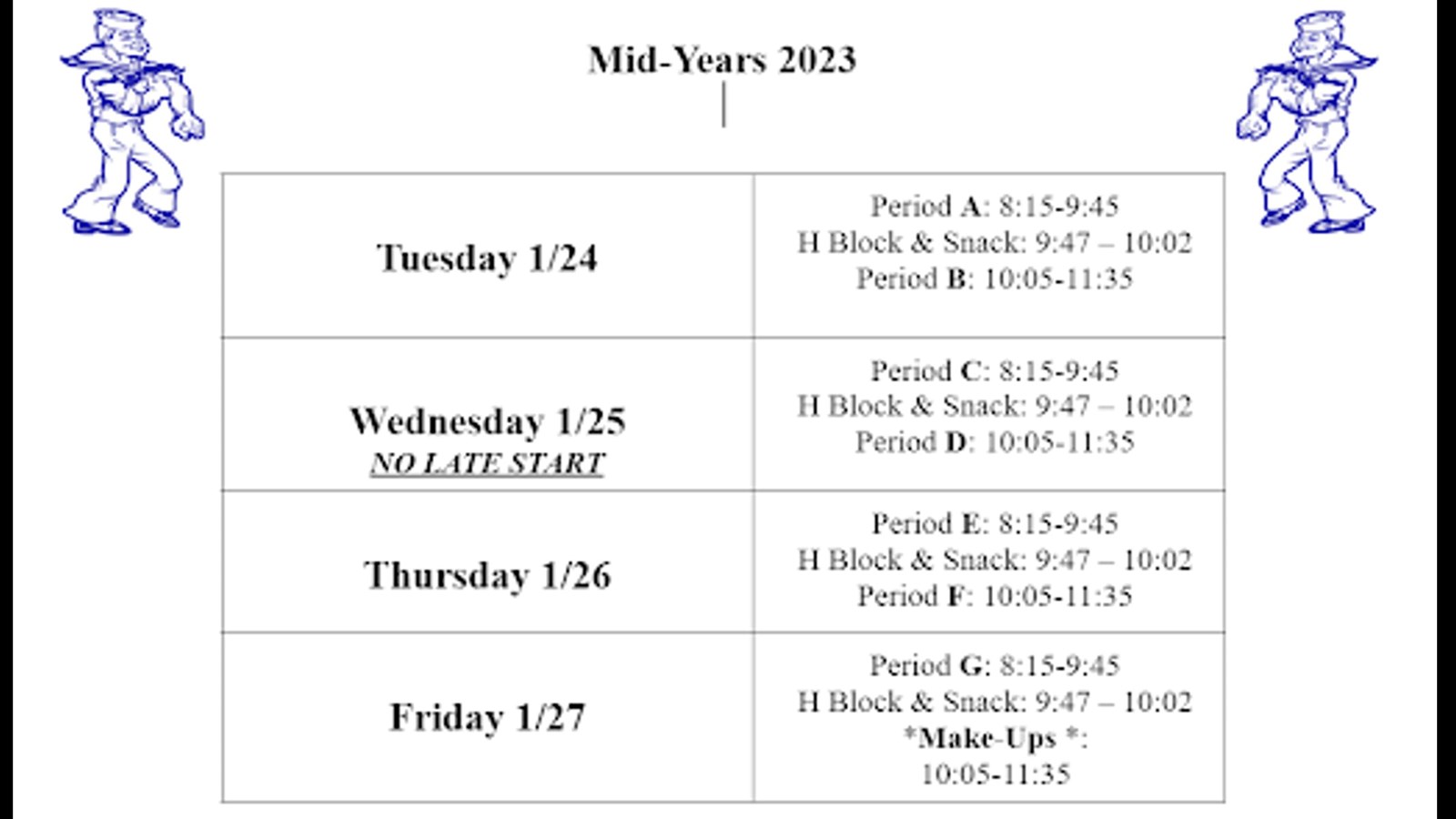 Midyears are Approaching
Your Midyear Questions Answered Here:
What is the purpose of a midterm and what do they typically cover?
What they cover:
Each teacher has the opportunity to do something different. It can be a review of what you have learned this far into the year (covers material September through January), and helps evaluate what you have learned. It can be the end of a unit test. It could be an opportunity for the teacher to have an extended block like an extended lab, class presentations or project work. It may be different for every teacher. The percentage worth of the exam to your final grade for the class depends on the teacher/course. As stated above, each class will be different and student attendance in each class is required. Each teacher will tell you what will be covered or what will happen during that exam period.
Purpose:
Opportunity for teachers to use an extended block for assessment, or to do something different in class to vary the learning experiences of the class.
Who is involved?
Everyone!
What classes have midyears?
All classes!
Can I leave the room during the midyears?
You will not be able to leave the room once the experience begins, unless there is an emergency and with permission from the office. Because you must stay in your room until the end of the block, there is definitely no reason to rush! Take the time you need, and when you are done check your work if time allows. Bring something to do after you finish your midyears (in case you finish early)—something to study or read.
What happens if I am late or miss a midterm?
If you are late you may only enter the room with an office pass. Students must take classes as scheduled unless approval has been granted by the principal only. If you miss an experience block you must bring in a note explaining your absence when you return. Also, be sure to be on time! Teachers will be taking attendance, and regardless, you want to have as much time as possible to work.
What if there is bad weather?
If school is canceled for inclement weather during midterm days we will return to the day we missed, unlike the rest of the school year. If we have a one or two hour delay we will administer the second block of the day and reschedule the first.
Where do midterms take place?
Most of them are in the classroom where your class meets. There are a few exceptions, and your teacher will let you know if the class will be anywhere other than your typical classroom.
What do I do if I only have one midyear experience, but need to take the bus to and from school; do I have to be at school the whole time?
You only need to be at school for the scheduled midterm days, but you are welcome to use the library as the cafeteria at any time. Remember that food should not be brought into the corridors, library or classrooms. Buses run on a regular schedule in the morning and afternoon, so plan accordingly. Students with a study do not have to report during that block; however, if you are in the building because of transportation during a study block, you must stay in the library or the cafeteria.
Will there be food???
Some breakfast offerings will be available between 7:40am and 8:15am. Snacks will be available in the cafeteria before experiences begin and between exams at 9:20.
What happens during the midterms?
It depends on the class and the teacher. If your teacher has not already explained to your class what they will cover and what the format will be, you can respectfully ask, and they will offer all the info they can to help get you ready.
Study Tips for all Students:
Your teachers should be your very first stop when getting ready for midterms. Make sure you're asking the right questions to get the information you need about the exam. Here's a quick list of questions you should confirm for each class:
Will the teacher be providing a review packet or holding an in-class review session? Will there be after-school opportunities for more review?
Will the midterm test material from the whole year so far or just the most recent material?
What is the format of the exam?
How many points is the exam worth?
What study suggestions does your teacher have?
Make a Study Schedule
We know it feels as though you're doing nothing but studying. But you can actually spend less time studying for midterms if you make a plan. Once you know what's going to be on the exam, make a list of what topics or question types you need to cover and when you're going to cover them. Make sure you study a little each night from now until the midterm.
LIFT: Learning is Fun Together
All freshmen preparing for Mid Years: there will be LIFT sessions hosted by freshman teachers in the library after school on Wednesday.
Start with your Notes and Tests
While you're at it, gather up any handouts or worksheets. If your midterm exam covers material from the whole year, then your previous tests will help you see what your teacher thinks is important. (Plus, you can learn from your past test mistakes).
Sleep
You might be tempted to pull an all-nighter, but a good night's sleep is key to your success. Start a healthy sleep routine in the weeks leading up to your exam, so you can reap the benefits of a fresh mind on test day.
Dos:
Complete study guides and know main focus areas for each class
Organize your binders and notebooks
Make a study schedule
Start reviewing two weeks before the midyears
Study more for classes you find more challenging
See your teachers or NHS student tutors for extra help
Listen and take notes when teachers talk about the midyear
Ask teachers questions during the midyears if you have them
Organize or be a part of study groups
Create note cards/flash cards
Get 8 hours of sleep (at least!)
Eat a healthy breakfast and take advantage of our snack time
Leave nothing blank
Be smart about time management during the experience time
Check your answers
Don't:
Procrastinate
Stress too much, because too much stress can cause you not to perform to your highest potential and can impact your performance
Be overly-confident—don't underestimate how challenging the class can be
Cram
Cheat
Do not turn midterm paperwork in with more than five minutes left—even if you take a break, when you are done don't hand it in right away, take the break and then go back to it to re-check your work
National Honor Society Tutoring
National Honor Society will be offering Midyear exam tutoring, help/organization to any Scituate High students who would like assistance as we gear up for Mid-Year Exams and the end of Semester 1. We'd especially like to encourage freshmen and sophomores to attend.
We will be offering the following sessions for students to attend:
Wednesday 1/18 during the late start from 8-9am in room 239
Wednesday 1/18 at the Freshman LIFT Program after school in the Library
Tuesday 1/24 after the 2nd exam from 11:45am-12:45pm in room 239
Wednesday 1/25 after the 2nd exam from 11:45am-12:45pm in room 239
Following the midyear exams, NHS students will be offering "clean-slate" organization tutorials, helping students organize their physical papers as well as their digital ones. Those dates are:
Wednesday 2/1, 8-9am during the late start in 239
Wednesday 2/8, 8-9am during the late start in 239
Lastly, National Honor Society offers volunteer tutoring every Tuesday during H block in room 237, and also on an individual basis. If you have any further inquiries, please contact the NHS advisors: kemerson at scit.org or aroberts at scit.org or stop by their rooms!
Notes from Extracurriculars
History Club - SHS will host this years Massachusetts Regional History Bowl on March 11th
Real Estate Club - Tuesdays H block Room, 127/Google Classroom Code: 6sdvlp4
Investing Club - Thursdays H block, Room 127/Google Classroom Code: 7lqu6fu
S.T.A.A.R. (Formerly SHS Anti Racism) - Do you want to create positive change in our school and community? Then please consider joining The S.T.A.A.R. (Students Taking Action Against Racism) Club Wednesdays at 2:46 in Ms. Pace's room #134. All are welcome.
Coffee With Caregivers
Important Details:
February 1, 2023 at 8am
Performing Arts Center Lobby (Please park outside the PAC/Gym)
MLK Day Event
To learn more about the Community Event: 2nd Annual MLK Jr. Memorial visit here.
Internet Safety Presentation for Parents
The United States Attorney's Office is hosting a virtual Internet safety presentation entitled "Keeping Kids Safe and Secure Online: A Project Safe Childhood Presentation for Parents."
This is:
A virtual presentation that will bring awareness to the dangers of the internet
Free! On Wednesday, January 18th, 6:30-7:30pm
Registration is required. For more information, please see the flyer here for more information.
A Look Ahead
1/16 MLK Day- No School
1/24-27 Midyears
1/26 Quarter 2 SAIL Awards 12 PM CPA- by invitation
1/30 Report Cards Published
1/30 Quarter 3 Begins